What's strange is how quickly the feeling has grown that Liverpool might be entering the Jürgen Klopp endgame. Even a month ago it seemed all but unthinkable. Liverpool had not played well this season, but the victory over Leicester City at the end of December made it four wins in a row in the league and the sense was that form was improving, just as it had in 2020-21 when Liverpool, after a midseason slump, recovered to take fourth place.
But since the turn of the year, Liverpool has taken one point from four Premier League games and gone out of the FA Cup at Brighton, having made it through a tie against Wolves only after a replay. Klopp, who once could be relied upon to defend his side come what may, blaming referees or external factors for defeats, has passed to a state of sadness or resignation, interspersed with occasion snaps at journalists. Angry Klopp has always existed behind jolly Klopp, but now it has become the default mode.
Liverpool did recover in 2020-21 and last season came within two games of an unprecedented quadruple, so there is historical evidence to suggest Klopp can turn this sort of dip around. And football clubs often act in haste, sacrificing a manager because it's the easiest way to send a jolt through a club only later to repent of their haste. There's no sense that the Liverpool board is thinking of any such precipitate action; they know as well as anybody what Klopp has given the club, that without his energy and organizational and motivational skills, Liverpool would not have been able to stay so close to City and its vast resources. One league title won offers a false impression of how good Liverpool has been.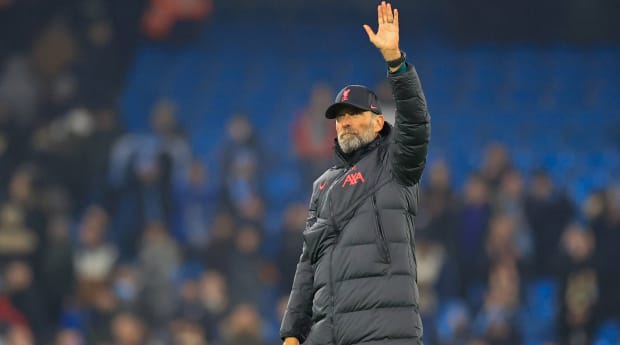 And there are mitigating factors. As in 2020-21, Liverpool has a lengthy injury list: Virgil van Dijk, Ibrahima Konaté, Luis Díaz, Roberto Firmino and Diogo Jota have all missed a significant chunk of the season, while Arthur Melo, brought in on loan to add depth to the midfield, had barely arrived before going down with a thigh injury. The exertions of last season, the sense of disappointment having lost in the Champions League final and taken the title race to the final day and ended up with only the two domestic cups, have perhaps prompted a reaction.
But many of these issues feel more fundamental. Liverpool's squad has been notably old for a little while now. Transition was needed, but that had proved difficult – and has been made harder by the departure in the summer of Michael Edwards as sporting director. Neither of the big recent signings, Darwin Núñez and Cody Gakpo, have stood out as of yet: It's only reasonable to point out how hard it can be to come in to a struggling side, but maybe they're just not the right players for this system. At the very least, neither answers the big problem of the midfield.
In addition, major players have not been in good form this season. The usually consistent van Dijk looked sluggish from the start. Fabinho has declined alarmingly, while Mohamed Salah has been nowhere near his best since the Cup of Nations last year. Nobody, meanwhile, has really taken on the Sadio Mané role after his summer sale to Bayern.
In part, the problem is precisely what has made Liverpool so effective for so long. To play a pressing game like that requires complete buy-in from the players, both in terms of physical effort and faith in the manager. As players age, or perhaps their hunger wanes, perhaps the commitment is not quite what it was. Even on the opening weekend, in the draw against Fulham, there was a sense of Liverpool not being quite as sharp as usual. And perhaps now, belief in Klopp is beginning to wane. Pressing, after all, is a counterintuitive activity, running forward to defend. Even a slight hesitation can be hugely detrimental.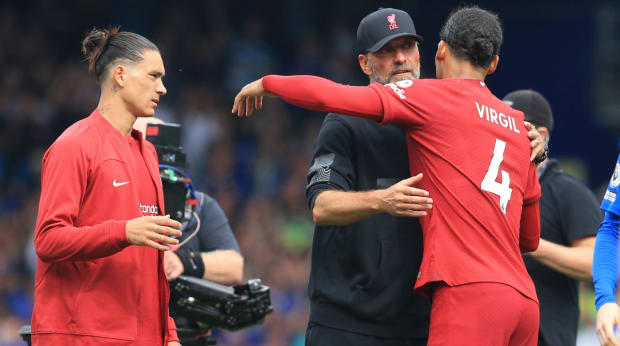 Hard pressing is a risky form of the game. Played well, it can elevate a side. Liverpool has had nothing like the resources of City, but it has challenged City repeatedly because of the impact of the intensity and precision of its press. But if the press goes awry, you're left with an unprotected high line with space behind it for opponents to attack. As confidence has waned, so has Liverpool started to make basic defensive errors like the opening two goals at Wolves on Saturday.
Perhaps with three or four players back from injury, Liverpool can rediscover its form. Klopp sides, more than most, are mood teams. But at the moment, the mood has left Liverpool. He lasted seven years at Mainz and seven years at Dortmund before deciding players had wearied of him. He is now in his eighth year at Liverpool and, for the first time, the possibility is being considered that the Klopp era might be coming to an end.