Thirteen days until the Super Bowl. And we're headed to the Senior Bowl …
• This may just be me, but the injury stories over this weekend seemed more seismic than we're used to this time of year—the Chiefs' quarterback and best skill player were beat up, and their receiver group was decimated; the Bengals were down three starting offensive linemen; and the Niners somehow got down to their fourth quarterback, then when he got hurt, had to go back to their third quarterback even though he couldn't throw.
And the healthiest team, Philly, had a quarterback with a balky throwing shoulder.
Look, anyone who follows the NFL understands the injury rate in the sport is 100%. Every team deals with these things over the course of a season. But the mountain of recent injuries in key spots to the teams still playing left me wanting to see some sort of on-the-level medical research into how the setup of the season is affecting players' ability to make it through, and teams' ability to have some semblance of the roster they broke camp with in August still on the field in January.
So I'd love to know what kind of impact the scale-back in contact practices has had on players' readiness to endure the rigors of a season. I'd also be interested to see if there's a toll playing multiple times on short weeks, necessitated by the NFL trying to shoehorn more primetime broadcast windows into the season, beyond guys just being worn down in the moment. And I'd love to see what the 17th game, which was purely a cash grab on the part of the owners, is doing.
For that matter, it'd also be worthwhile to see how experimenting with managing players differently to get them through the new NFL calendar has turned out for teams' training, strength and medical staffs.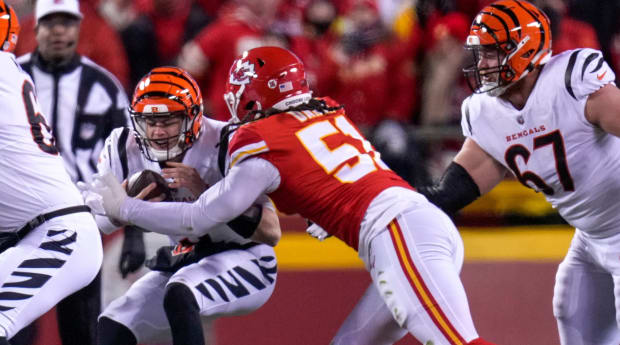 There, obviously, has been a lot of change over the last 15 years in how the NFL's calendar year sets up, as the league has worked relentlessly to get more football on television. And I'd say we all love to have more football to watch over the five-month window through which we get it. But I do wonder if we've gotten to the point of diminishing returns, where that extra Thursday game, or extra week of the regular season, just isn't worth having teams bringing M*A*S*H units into championship weekend.
Of course, as long as the checks keep clearing, we know where all this will go.
That said, I do think it's at least worth discussing where we're at with all of it. Because the brutal way the second half of the NFC title game played out, and then Joe Burrow running for his life and Patrick Mahomes being less than fully able to do the same isn't how anyone drew this up.
• While we're on the subject of big-picture issues, the NFL's all-star crews were a wreck on Sunday, and whether that's because those guys aren't used to working together, or the game is just moving too fast for a human being at ground level to process all of it, it's time for the league to do something about it. And I'm gonna beat the dead horse that I've been beating for years and years now.
You've got the technology. It's time to use it, and more aggressively than you ever have.
It's never made any sense that you or I or anyone else sitting on the couch has access to a dozen different angles of every play instantly, and the guys on the field running the game itself don't. Again, I've felt that way forever, and I know there are a lot of people working in football that do, too.
"Everybody recognizes what a great job they do and how hard the job is," Ravens coach John Harbaugh said to me in May 2020, when implementing a SkyJudge was debated. "These calls are made under a microscope. And it's a microscope with the fans seeing it in high def and knowing what really happened. And then the credibility of the outcome of the game comes into question for the fans. And that's really the crux of the whole thing."
If you want to read more on that, we did a soup-to-nuts story back then on the subject, the plan the coaches subcommittee put together, and why the whole thing would actually make the game move faster, not slower.
And I stand by what I wrote then. The only reason not to do it, as I see it, is the silly, archaic thought that the game needs to be controlled completely from the field. I'd say that getting as many calls right as possible is more important protecting people's feelings in that regard. The referees are big boys. They can take getting overruled.
• One leftover from my time in the Eagles' cigar-smoke-filled locker room—I got GM Howie Roseman on what Philly saw in Nick Sirianni in January 2021, a time at which Sirianni was an afterthought on the coaching carousel.
"He has an unbelievable ability to connect with people," Roseman said. "And we saw that right away. And then I think the second part is, he's got a great understanding of the game. he can fix problems and he can put players in great position to have success. When you talk about great coaches who can connect with their players, and they can put them in great position to have success, and they can figure out, when there are problems, solutions to them, you got a chance."
It's fair to say Sirianni gave the Eagles a chance.
• And give Roseman a hat tip for this—among the Eagles' scouts, the GM was on Jalen Hurts from the start in 2020, when the Alabama/Oklahoma product was polarizing among evaluators and seen as a project by even those who liked him.
Roseman joked with colleagues at the combine that year, watching Hurts throw to the draft's top receivers at Lucas Oil Stadium, that it looked like Week 3 of the preseason.
Now, did anyone think Hurts would be leading Philly to a Super Bowl in his third year? Of course not; the Eagles had signed Carson Wentz to a monster extension less than a year earlier, and took Hurts in large part to hedge against Wentz's chronic injury issues. But knowing enough, and feeling strong enough, about Hurts to use a second-round pick on the kid, despite having a big-money quarterback on the roster, is a feather in Roseman's cap.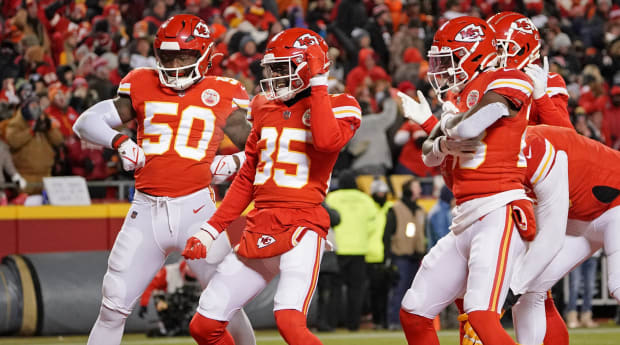 • Last week, we did a story on the way the Chiefs were built, and we broke down how much the Chiefs rookies contributed—with nine of 10 draft picks active for the Jaguars game, four of the 10 starting, and all nine playing 14 or more snaps.
So here's the breakdown, with nine having played and four having started again.
CB Trent McDuffie: Started, played 65 of 66 (98%) snaps on defense.
DE George Karlaftis: Started, played 27 of 66 (41%) snaps on defense, 1 on special teams.
WR Skyy Moore: Played 40 of 69 (58%) snaps on offense, 17 on special teams.
S Bryan Cook: Played 27 of 66 (41%) snaps on defense, 22 on special teams.
LB Leo Chanel: Played 5 of 66 (8%) snaps on defense, 22 on special teams.
CB Joshua Williams: Played 59 of 66 (89%) snaps on defense, 14 on special teams.
OT Darian Kinnard: Inactive.
CB Jaylen Watson: Started, played 66 of 66 (100%) snaps on defense, 6 on special teams.
RB Isaiah Pacheco: Played 39 of 69 (57%) snaps on offense, 3 on special teams.
S Nazeeh Johnson: Played 18 snaps on special teams.
That's a huge level of contribution from a single class, and in particular one that's playing in these sorts of high-leverage spots. And if these guys continue to develop? Managing Patrick Mahomes contract, and building around it, will get that much easier.
• If I'm Chargers coach Brandon Staley, I'm backstopping the hire of offensive coordinator Kellen Moore with an understudy that would be ready to call plays in 2024. Why? Well, Moore's been on the head-coach search radar for a while now, and really impressed the Panthers last week. Which means, in all likelihood, David Tepper will recommend Moore to his counterparts. So if Moore gets Justin Herbert and the guys around him to capitalize on their potential next year, there's a really good shot that Moore would be in line to win a job elsewhere.
That, of course, would be a good problem to have, but one it'd be smart to get out in front of nonetheless.
• Good to see the Bengals' coordinators getting some attention, with DC Lou Anarumo set to interview for the Cardinals job on Wednesday, and OC Brian Callahan taking a second interview with the Colts in Indy on Wednesday, before going to Arizona on Thursday.
Both guys are excellent and have been overlooked. And with the amount coaches are responsible for in Cincinnati, and how they get to see and touch just about every facet of the football operation, that place may be a better spot to learn to become a head coach than just about anywhere else.
• The 49ers' top order of business this offseason will be extending Nick Bosa, and those numbers figure to be astronomical, well north of $30 million per year.
With the cap back on the rise—it's jumping to $224.8 million this year—the normal inflation rates from the past should be reestablished. And that leaves Bosa in position to cash in for waiting, after not getting his big second contract in his first year eligible to land one.
• Every year when new coaches come in, they have to make decisions on which assistants to keep from the old staff and which assistants to let go, and so it was that Andy Reid had to make such a call on a young assistant named Nick Sirianni upon landing in Kansas City in 2013. Sirianni was initially brought to the Chiefs by Todd Haley.
"I was told Nick Sirianni—this guy is really a special coach. Really, a good football coach," Reid said in his Zoom with reporters. "But I had David [Culley]. David was my assistant head coach and he'd been with me for 14 years and so he was coming with me. And I had to make that determination to keep Nick or not. And I knew being as good as he was and the reputation he had, I knew he was going to get something. So it's worked out great for him."
Interestingly enough, Sirianni went from there to San Diego, where he worked for Mike McCoy and first got to know Frank Reich, who'd eventually take him to the Colts as OC and whose success in winning a Super Bowl as Philly's OC gave the Eagles good reason to investigate and eventually hire his protégé. Which, like Reid said, really worked out for Nick.
• The NFL has certainly gotten what it's wanted in rules designed to slow down the coach hiring process. Traditionally, teams have wanted to have their head coaches in place before the start of Senior Bowl week, which serves as the unofficial kickoff to the NFL offseason.
This year? Just one of five jobs is filled.
• I could certainly see the 49ers making a hard run to swoop in and steal Vic Fangio from the Dolphins. Fangio loved the Bay Area, where he was from 2010-14, first as Stanford's DC, then as the Niners' DC. And Kyle Shanahan made a run at hiring Fangio when he first got the Niners job in 2017.
The plan is for current Niners DC DeMeco Ryans to fly to Houston for a second interview early this week, which certainly could be followed by his hiring. It seems doubtful that the Texans are going to bring in a slew of second-interview candidates like the Colts have done, so all of those, both for Ryans and Fangio, could be expedited in the coming days.