Two days into the job, the new coach of North Carolina field hockey walks down the stairs at the team's facility and greets a visitor with a firm handshake, an easy smile and an offer to tour the building. An engaging guide, she points out all the features of a facility that is commensurate with the Tar Heels' standing as the best program in the country, having won four of the last five NCAA championships. She laughs about her first contribution as head coach: buying some small trash cans for the locker room.
When she flips on the lights in a room used for team meals and other functions, she's startled by a new addition to the wall. "Oh, I hadn't seen that yet," she says, looking at her own retired No. 1 jersey. It had just been framed and mounted there.
The kicker here—the reason why a new field hockey coach is a wait-what-really? story—is that Erin Matson just took off that jersey for the final time 75 days earlier. She led the Tar Heels to an undefeated national title in late November, graduated with a degree in PR and advertising in December, then was announced as the head coach at North Carolina on Jan. 31.
At the age of 22.
This doesn't happen in modern college athletics. The path from player to coach might start immediately after a competitive career ends for some, but the path from player to head coach always winds through a few stops and several years—sometimes several decades. Not only is North Carolina radically accelerating that timetable, this isn't some fixer-upper job that nobody wanted; Matson was chosen from a field of A-list candidates to lead a 10-time national champion juggernaut.
"If you look at it and you don't know her, you think, 'Whoa, wow, a 22-year-old; how is that going to work?'" says Matson's mom, Jill. "If you meet her, you start to understand."
This is verifiable. Spend an hour with Erin Matson, and this seemingly rash move by the decidedly un-rash North Carolina athletic director, Bubba Cunningham, suddenly makes sense. Her combination of charisma, confidence and maturity ages her a decade or more beyond her birth certificate. She's disarmingly comfortable being interviewed, with a voice that can ratchet up a couple of octaves for emphasis as needed.
You may walk into the facility wondering why hire a 22-year-old, but you walk out saying, why not hire this specific 22-year-old?
Beyond personality and acumen, Matson's playing résumé is unparalleled. She won four national titles in five seasons at Carolina and won the Honda Award as the premier player in the college game three times. She owns wide swaths of the Carolina record book and has extensive international experience as a member of the U.S. national team. She's been called the Michael Jordan of American college field hockey.
As for understanding the current terrain of college sports, with player compensation and immediate-eligibility transfers shifting the landscape, Matson is the anti–Jim Boeheim. She has to be the first head coach who had her own NIL deals as a player.
And the baton handoff couldn't be more clean in this instance. Karen Shelton is the departing legend, the 42-year coach who led all 10 of those NCAA title runs. Her name is on the stadium, and her imprint is on Matson. Shelton's endorsement resonated.
Ask Matson's dad, Brian, about Shelton's influence on his daughter, and the response is several seconds of silence. Not because he isn't sure what to say, because he's trying to compose himself and fight back tears.
"She's meant so much to her," he says, finally. "It's not just the trophies. Coach Karen has a wonderful way of leading and teaching."
And yet, despite everything about Matson that shouted "HIRE ME," it's hard to get an athletic director to actually sign off on it. They simply aren't inclined to operate this way. College seniors know where the drink specials are in town, not the NCAA rules manual.
"I didn't ever think I'd hire a 22-year-old," Cunningham says with a smile. "But I also didn't think I'd hire a 67-year-old football coach, either (Mack Brown, who has had four successful seasons during his second stint at the school).
"We talk about fit all the time. You may go into a process with a preconceived notion and come out with something else. I think about hiring a sitting head coach; that's where I start [with every search], but the feedback from everyone on Erin was 'absolute superstar.'"
If North Carolina didn't hire Matson, someone else would have—for an assistant's role, not a head coach. The UNC field hockey program did not want to lose its Michael Jordan and regret it years later.
So Cunningham made the call, triggering a whirlwind of change in Matson's young life. There would be no gradual transition into the adult world. She's made the short walk—and quantum leap—from the UNC players' locker room to the coaches' office.
Sitting in the "closing room," as it's called—the lounge where the Tar Heels try to close recruiting deals—Matson places two cellphones on the table. One is her personal phone; the other is the newly issued university phone. She wrote the new number and her new work email address on the whiteboard in the locker room, a demarcation in her relationship with the players who were her roommates and teammates a few months earlier.
"It's my responsibility and my job to set those boundaries, but I'm not coming in here to boss people around," Matson says. "That's not my job. I'm not here to sit and manage and bark orders. I'm here to convey my knowledge and help them discover it themselves. It's all about how we can do that together. I need them to step up the game now that I'm stepping mine up. It's going to take some time. We're going to go through this together and see how it looks."
While the relationships are altered, they already exist on a deep level. She intimately knows who she's coaching.
"They know me; they know how I roll," Matson says. "My expectations and standards are the same as they have been for five years. I'm not sitting in here saying, 'Tell me about yourself.' I know probably too much about them."
Same person, new role, new contact information. Life came at Erin Matson fast. She smiles a bit wearily and says, "I feel like I've grown up 10 years in 10 days."
---
Brian Matson recollects that Erin was 8 or 9 years old, just starting in field hockey in eastern Pennsylvania, when she first made a move that had people buzzing. Some sleight-of-hand stickwork led to a precise pass, and the next thing he knew parents more knowledgeable in the sport were recommending a club team that could nurture her natural skills.
Brian was a college baseball player at Delaware. Jill had been a field hockey goalie in high school and for one year of college at Yale, but softball was her primary sport at both levels. They weren't well versed in what would become Erin's best sport. They took the recommendations, and Erin began playing for WC Eagles, a powerhouse feeder program to the highest level of field hockey in the United States.
Fast, smart, fearless and creative, Erin had a prodigy's progress. She developed so fast that she made a U.S. indoor team at age 13 for an international trip with teammates who were in their 20s, some as old as 30. At 16 she was named to the national team, one of just two players to earn that distinction that young.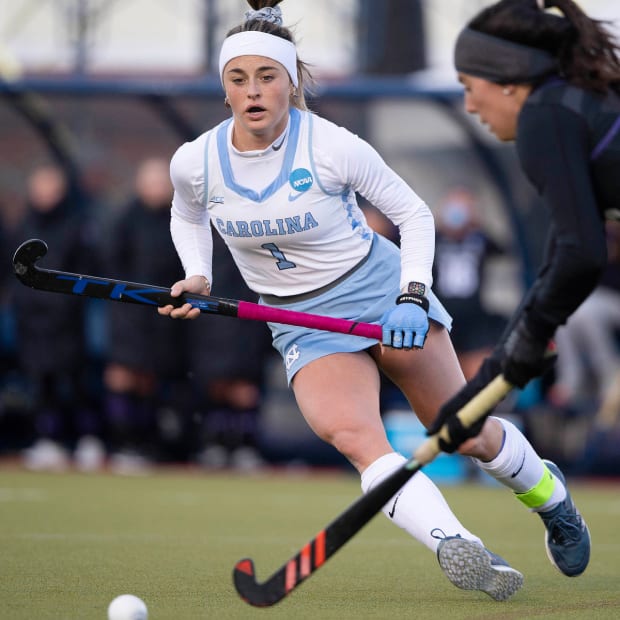 "She's always been hanging out with people older than she is," Brian says, explaining his daughter's maturity. "She always played above her age level. Those kinds of experiences helped shape her."
Matson arrived at North Carolina as a big recruit, but also brought the work ethic that would help her keep improving. She lived by famed UNC women's soccer coach Anson Dorrance's credo, "live on the wall," firing shots at walls at the stadium for hours, honing her craft.
"I love and respect the fundamentals," Matson says. "I never got bored with the basics; I actually found excitement in it. I lived on a wall as a field hockey player. Karen and everyone used to joke that [the walls] were my best friends."
A couple of years and a couple of national titles into Matson's time at UNC, Shelton mentioned to Cunningham that she was considering retirement. The team knew, as well. Her name went on the stadium in 2018, usually a sign that a career is winding down, but there was no end date announced.
Shelton kept stringing it along—she didn't want to go out on a relatively disappointing note after a 13–7 season in 2021. When the '22 season unfolded like a dream, most Tar Heels suspected what was going to happen but didn't know.
Seventeen days after winning the title, Shelton announced her retirement. She left as the winningest coach in the history of the sport.
"She kept it very vague until the end," Matson says, then let her Tobacco Road allegiances show. "She didn't do the whole Coach K retirement tour thing."
Matson, a fifth-year senior who had been something of a player-coach during the season, saw it coming and started to organize her candidacy. She applied and spent December prepping a résumé, workouts, season plans—everything she knew she would need to win over Cunningham and the selection committee.
She was all-in on the Carolina Way, a Dean Smith saying that morphed into a set of values over decades of rampant men's basketball success. That tenet took on some tarnish during the athlete academic scandal that rocked the school in the 2010s, but none of that splashed onto the Olympic sports. To Matson, part of the Carolina Way is bucking conventional wisdom.
"We love challenges here," she says. "We don't necessarily listen to precedent, what's supposed to be and what's been done. We like to create our own way."
North Carolina created a path for her. It interviewed three sitting head coaches for the job, but everyone was blown away by Matson. As the process wound down, she was hopeful but knew that Cunningham was sticking his neck out a bit with one of the most successful programs on campus.
"There's risk," Cunningham told others on the search committee. "But if we support her, I think the risk is minimal."
---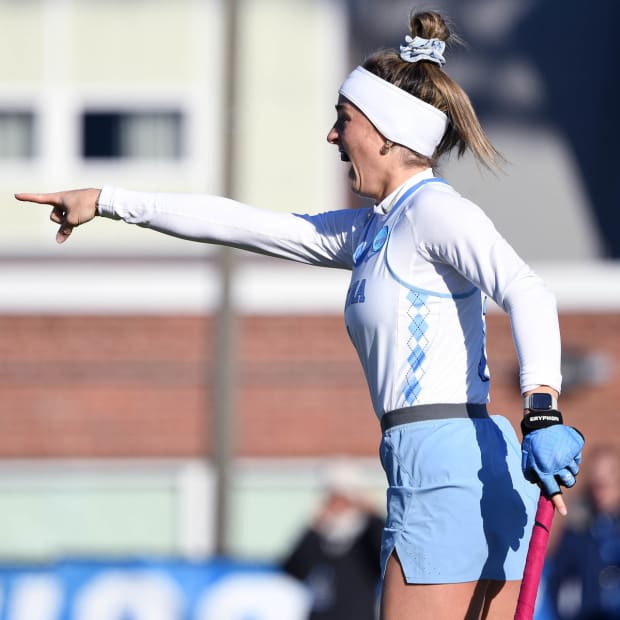 At about 9:30 p.m. on Jan. 30, Erin Matson stepped out of the shower, looked at her phone and felt her pulse race. There was a text from Cunningham asking her to come in for a meeting the next morning. After dashing off a "yes, of course" response, she and her boyfriend, Ben Casparius—a baseball player in the Dodgers organization—began speculating on what the text meant.
"The meeting was early in the morning," Matson says. "Does that mean it's a no and he's telling me first? Does that mean it's a yes because he's telling me first? It was a total freak-out, in a good way. A good, anxious way. I really didn't get nervous playing, but I wanted this so badly that it was good nerves."
While Matson went in for the meeting, Casparius kept vigil outside the athletic offices. Matson's parents texted him for updates. When the meeting kept going for about 45 minutes, they were optimistic—a rejection meeting wouldn't take anywhere near that long.
Inside, the job had been offered and accepted, and the whirlwind really began. Matson was whisked off for photos and videos to accompany the announcement of her hiring. When she finally got a free minute, she called her parents and told them the news. They shed tears of elation and pride on the other end.
Reaction around field hockey itself, and the UNC campus, was overwhelmingly positive. Matson had name recognition and celebrity cachet, as popular a Tar Heel as any in the school's vast array of successful Olympic sports.
In the outside world, the very idea of a 22-year-old head coach stoked curiosity and skepticism. Some of that inevitably reached the 22-year-old herself via social media.
One guy in particular sneered on Twitter about North Carolina hiring a coach who isn't even old enough to rent a car. Ask Erin Matson about that now, and she laughs, shrugs and offers a tart, problem-solving response.
"I can Uber, buddy."