Making your own compost not only saves you money but makes use of garden waste and kitchen scraps. An easy-to-use compost tumbler makes the process simpler by speeding up decomposition.
If you're looking to avoid having a big, messy compost heap, this kind of composter is what you need. With the right compost tumbler for your backyard, your garden will soon be in full bloom.
In this article: Mantis Back Porch ComposTumbler, Miracle-Gro Dual Chamber Compost Tumbler and Lifetime Outdoor Double Bin Rotating Composter.
What is a compost tumbler?
A compost tumbler is a device used to compost organic waste, such as food scraps and yard waste, by rotating it on a regular basis. It consists of a drum or bin that is mounted on a frame that you rotate to mix the compost and promote aeration, which leads to faster decomposition.
Compost tumbler benefits
This type of garden composter has a range of benefits, plus there are plenty of benefits to composting in general.
Reuses waste: Composting is eco-friendly because you're turning your own garden and kitchen waste into something useful. If you're looking to reduce the amount of waste you dispose of, composting is a great idea.
Saves money: Quality compost can be pricey, but with a composter, you produce your own for free, so it doesn't take long to pay for itself.
Efficient composting: Tumblers provide better aeration and mixing than standard composters, which means organic waste decomposes more quickly.
Less effort: They are easy to use and require less physical effort compared to traditional composting methods. There's no need to turn your compost with a shovel or form, saving you both time and energy.
Reduced odor: Rotating compost regularly lessens the chance of bad odors being produced. This is great for small yards, where you might normally prefer to avoid composting for fear you'll smell it strongly whenever you're out enjoying your backyard.
Fewer pests: Tumblers have tight-fitting lids that keep out pests, such as rats and mice.
Space-saving: Many tumbling composters are compact and can be placed in small outdoor spaces. They're also great for patios, decks and other areas that would be suitable for a more conventional composter.
Containment: Rotating composters keep compost contained, so they don't make a mess. If you're worried about an unruly or unsightly compost heap, you might prefer a tumbler.
What to look for in a compost tumbler
These are some of the features to look for in a compost tumbler:
Capacity: Consider the size of the tumbler and how much compost it can produce. You'll want it to make enough for the size of your yard.
Dual-chamber design: Some tumblers have two chambers, which lets you start a new batch of compost while the older one is maturing.
Material: Ideally, your composter should be made from durable, weather-resistant materials, such as UV-stabilized plastic or rust-resistant metal.
Ease of use: Some tumblers are easier to use than others. Try choosing one with a smooth and easy-to-operate turning mechanism, a large door for adding waste and a locking mechanism to keep the compost contained.
Aeration: Good aeration is crucial for composting, so look for tumblers with slats or vents to allow airflow.
Best easy-to-use compost tumblers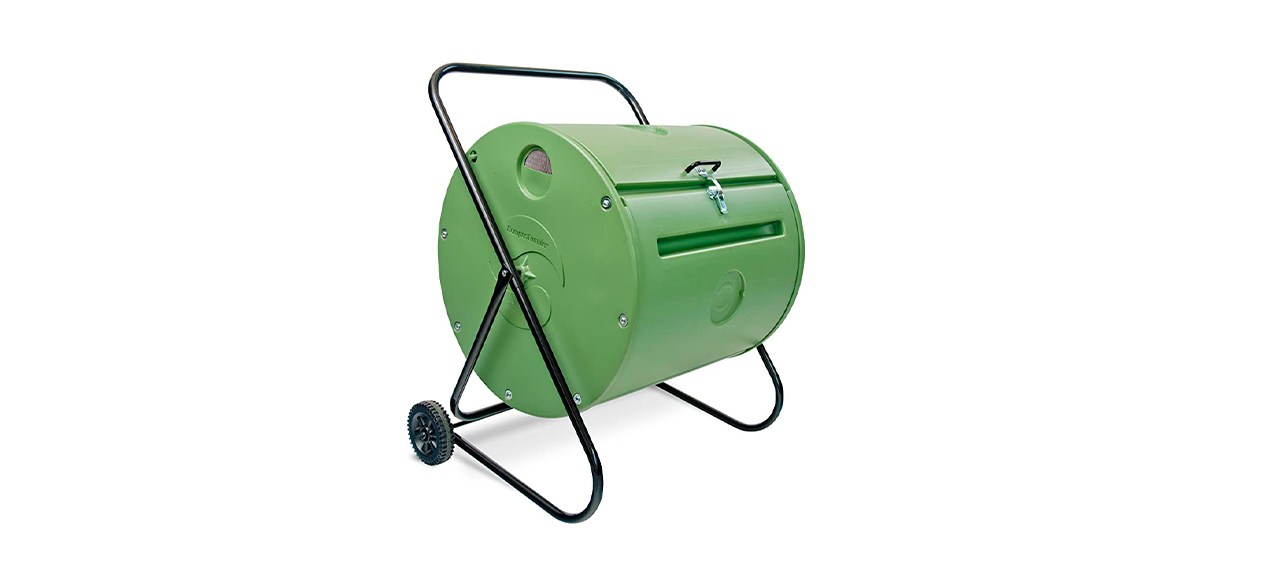 Mantis Back Porch ComposTumbler
If you're looking for a high-end option, this is one of the sturdiest around. It is easy to turn and has a wide mouth and removable door, so it isn't a pain to fill. It also comes on a wheeled stand so you can move it wherever you need it.
Sold by Amazon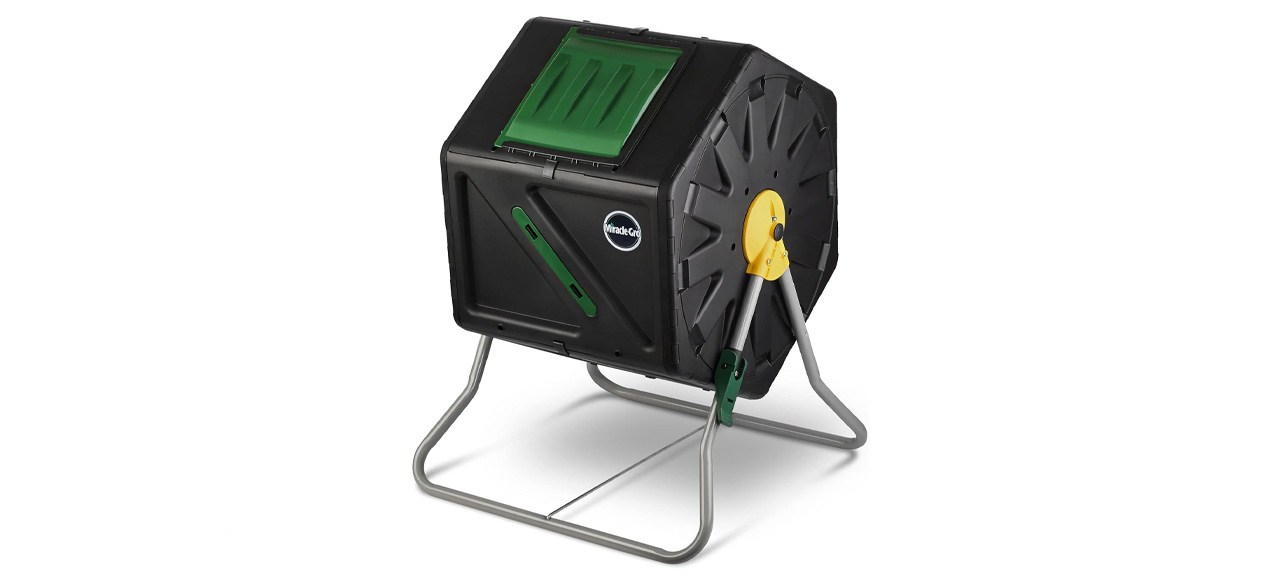 Miracle-Gro Dual-Chamber Compost Tumbler
Thanks to the dual chamber design, you can have one chamber decomposing rapidly while you fill the other, so you never have to wait around to add waste. It's extremely efficient, producing compost in just four to six weeks (or even less time when the weather's hot).
Sold by Amazon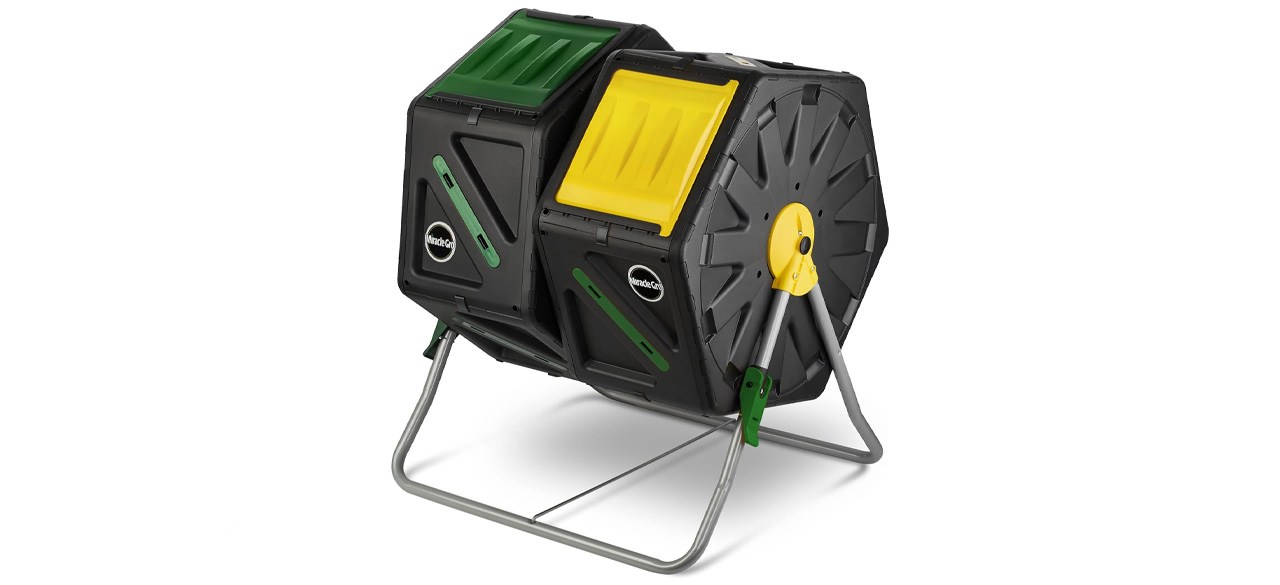 For those with small yards and minimal composting needs, this compact tumbler is an excellent option. You can choose from two capacities: 27.7 or 18.5 gallons. It's easy to turn and made from BPA-free plastic with a locking lid to keep out rodents.
Sold by Amazon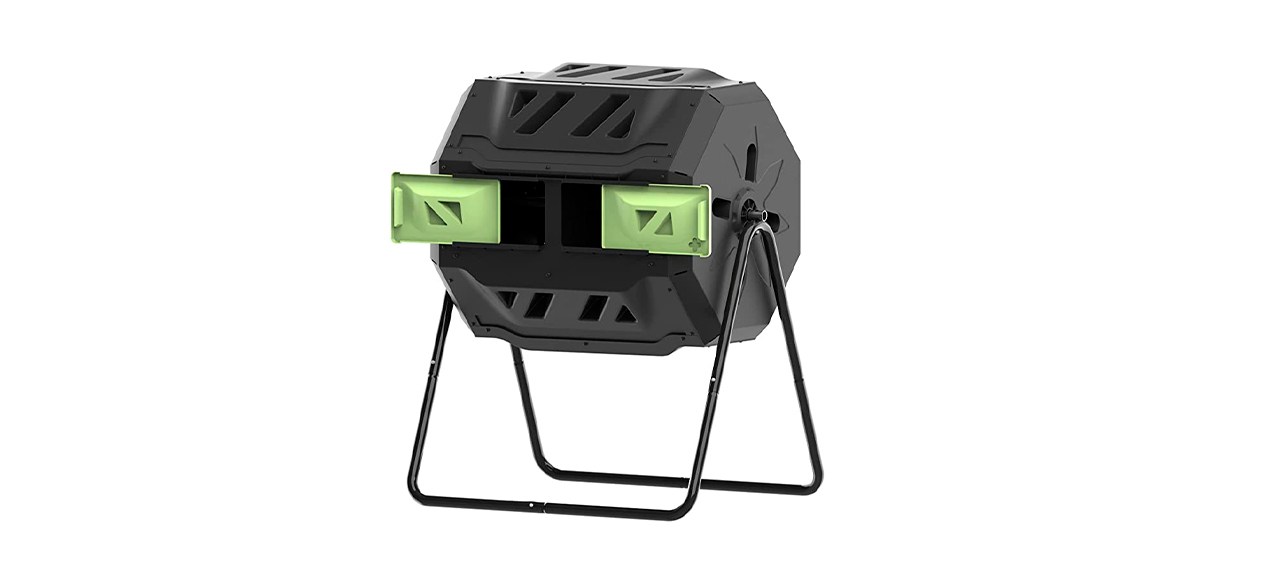 The dual compartments offer a total capacity of 43 gallons and the option to compost continuously, making it a good choice for serious gardeners. It has a sturdy steel frame and is made from BPA-free plastic, so you don't have to worry about it leaching into your plants.
Sold by Amazon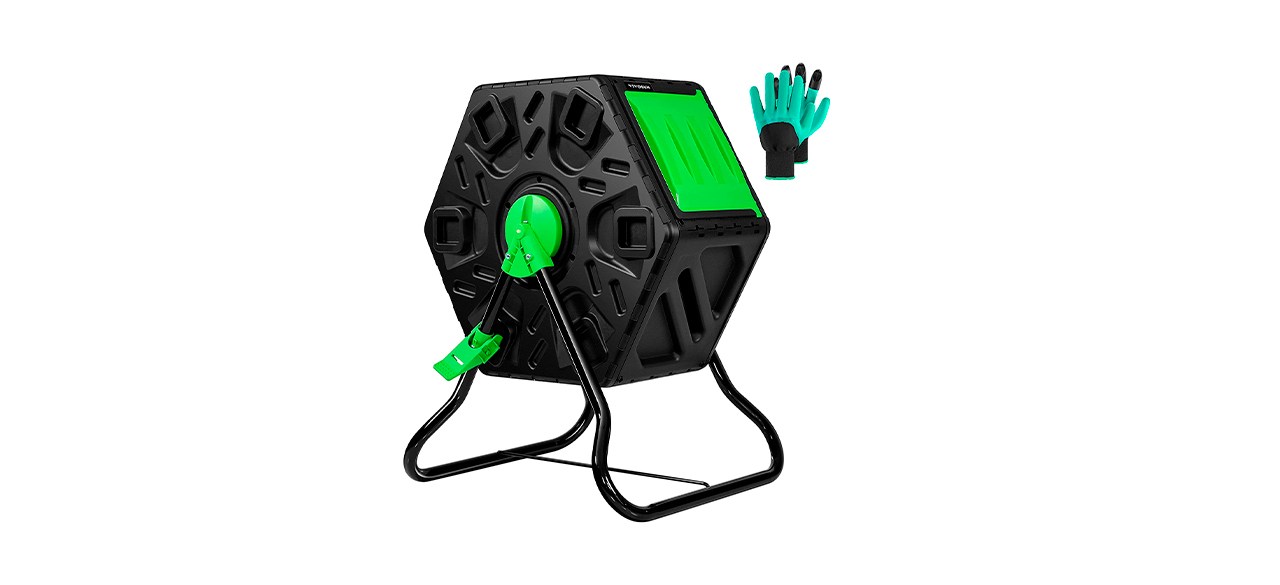 With an 18.5-gallon capacity, this is a great choice for small yards or people composting on a balcony or porch for houseplants or a handful of outdoor container plants. It's well-balanced, so it rotates effortlessly. The sliding door locks to keep compost in and pests out.
Sold by Amazon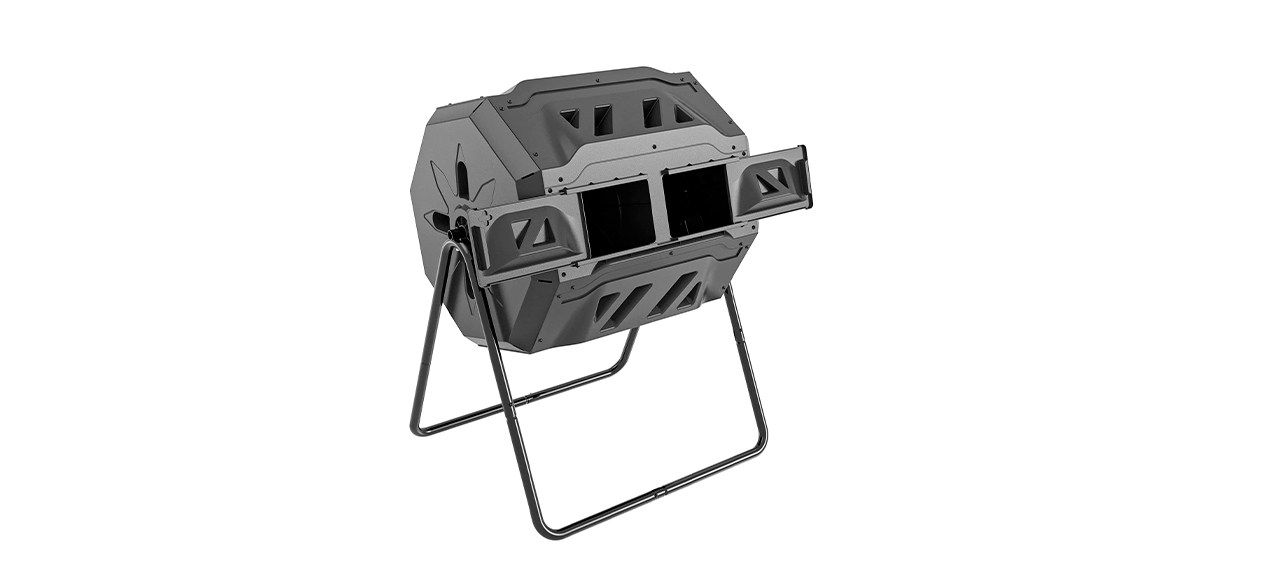 Providing excellent airflow, this tumbler turns organic waste into compost quickly and efficiently. It has two chambers for continuous use. It's easy to rotate and at a convenient height for loading and unloading.
Sold by Amazon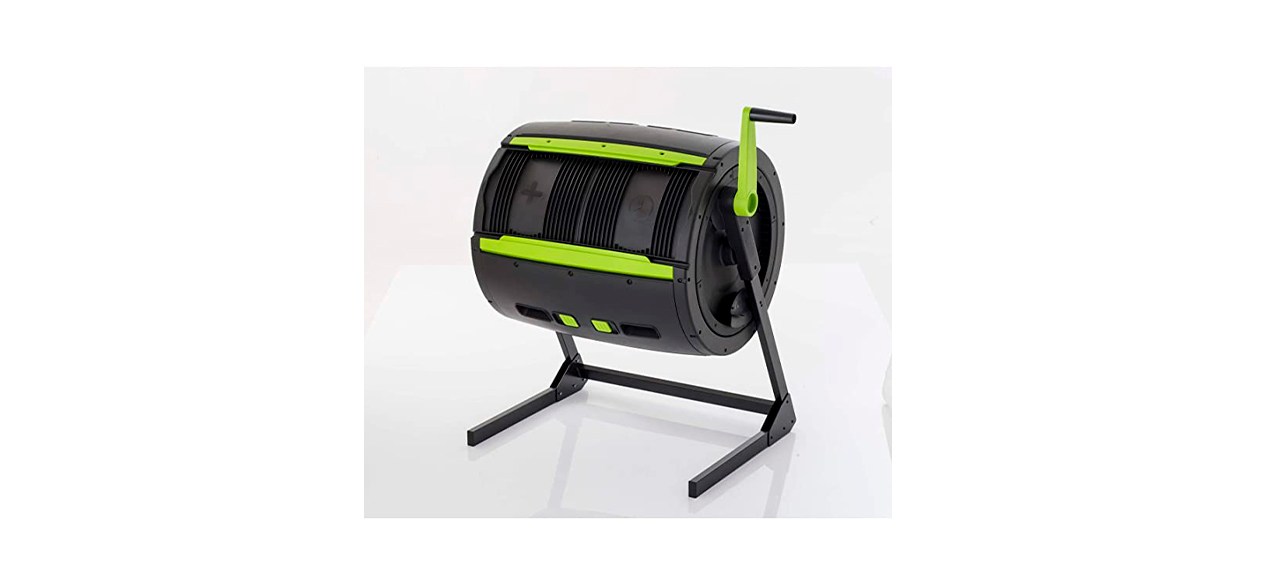 RSI Riverstone Industries Maze Two-Stage Tumbler Composter
With its large handle, rotating this tumbler to turn your compost is a breeze. It has a large 65-gallon capacity and two chambers. The air vents are adjustable for faster or slower decomposition, so you can tailor the process to meet your needs.
Sold by Amazon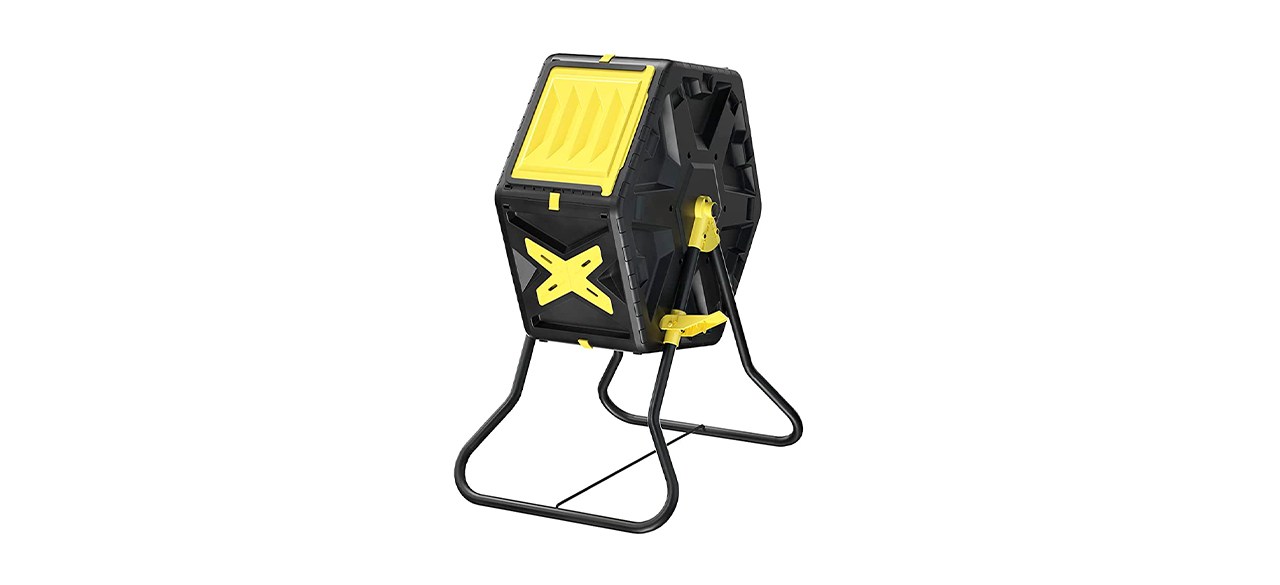 This 18.5-gallon single-chamber tumbler doesn't take up much space. The sturdy frame is made from powder-coated steel.
Sold by Amazon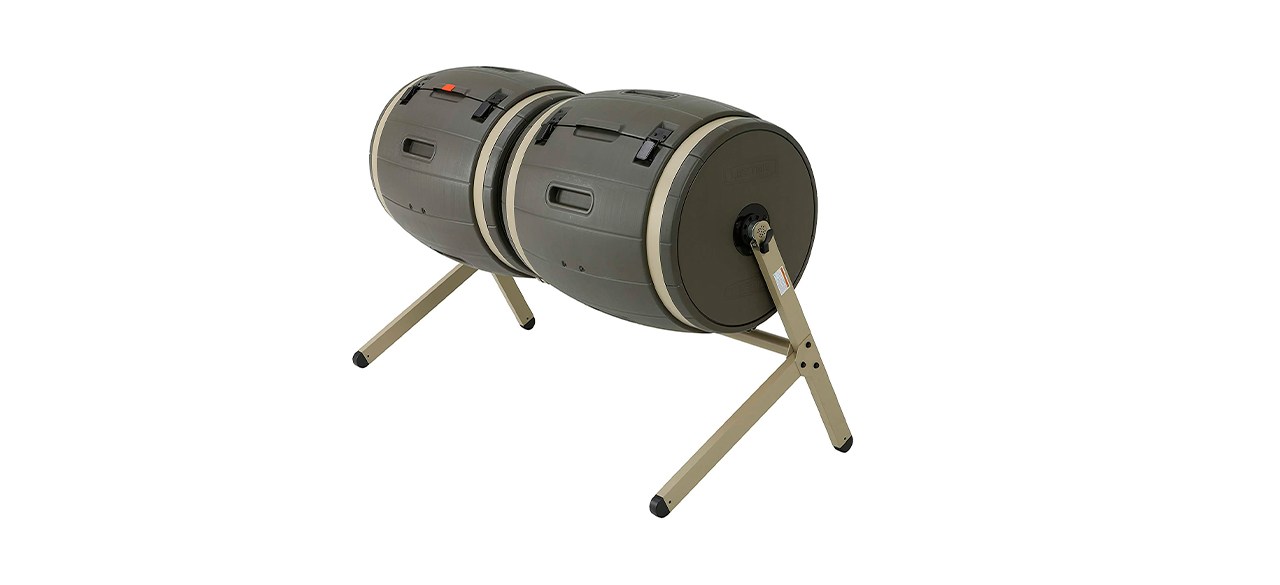 Lifetime Outdoor Double Bin Rotating Composter
The generous 100-gallon capacity makes this one of the largest tumblers on the market. It's split into two 50-gallon bins, so you can always be composting. It turns easily and has several handholds placed around the outside of each barrel to make the process even simpler.
Sold by Amazon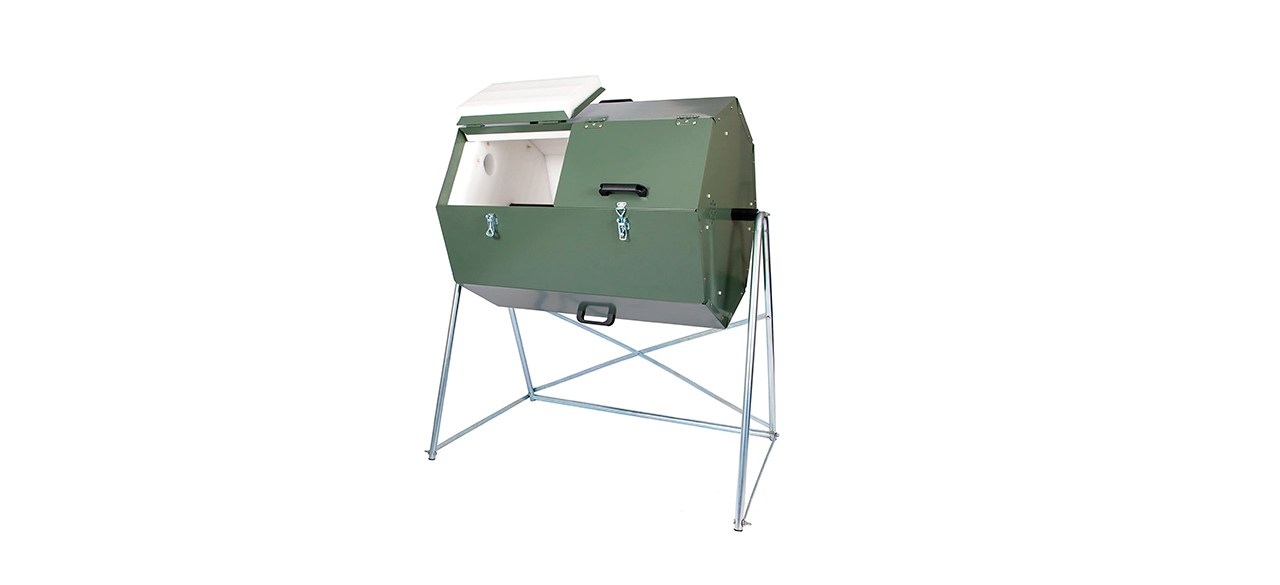 Jora Composter JK 270 Compost Bin Tumbler
It might be pricey, but this heavy-duty composter is sturdy enough to last decades to come. It has dual chambers and is insulated to raise the temperature inside, which makes the composting process even speedier.
Sold by Amazon
Want to shop the best products at the best prices? Check out Daily Deals from BestReviews.
Sign up here to receive the BestReviews weekly newsletter for useful advice on new products and noteworthy deals.
Lauren Corona writes for BestReviews. BestReviews has helped millions of consumers simplify their purchasing decisions, saving them time and money.
BestReviews spends thousands of hours researching, analyzing, and testing products to recommend the best picks for most consumers.
Copyright 2023 BestReviews, a Nexstar company. All rights reserved.